---
Can I Show You How To Make Consistent Profits Using The Exact Same Greyhound Racing Software That I Use? We'll See!
O.K continuing on from my previous post
Can I Make A Living Betting Greyhounds
here is the software that I use to profit from the Greyhound Track. It's the very
best handicapping software
I've found and it's called
Greyhound Handicapping Software Free Trial
.
You can visit there homepage with the link I just provided. You will see that QuickReckoning also offers a Horse handicapping software but for our purposes we're gonna stick with the greyhound software. The main reason I stick with greyhound racing is because there's normally only 8 dogs max to a race and no jockey to figure into the equation. Since I like to play trifectas, a field of 8 dogs offers me a better chance of winning than a field of 10-14 horses.
O.K. so if you want to use the same software I use to make profits at the racetrack, you're gonna need to download it. The Software costs $88 dollars a year but there is a 30 day Free Trial that will give you ample time to decide whether the software is for you or not. It's important to note that I am receiving no commission for referring you to this software. I use this software myself and my main goal is to get you winning at the track so that you make bets on a consistent basis. I am affiliated with the racetracks through Betamerica and I can tell you that racetracks don't make money by people losing bets, they make money by people betting period. Because tracks take a percentage of all bets made they have no interest in who wins. When placing bets at a track you're not betting against the house, you're betting against other people. This makes race betting one of the best and potentially most profitable forms of gambling available. It also means that if I can teach you how to use this software to win consistently then I can make consistent profits just by you betting. It really could be a win win for everyone. It also answers the question of why I'm sharing my knowledge of a winning system. :)) I guess we'll have to see how it goes?? O.K. so let's get setup today. Take a look at this introduction video to the Quickdogs software. The Video needs to be downloaded to be viewed F.Y.I.
Quickdog Intro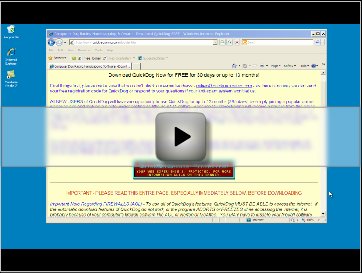 Once you've taken a look at the video head on over to the
Greyhound Handicapping Software Site
. The link I'm providing leads to the Dog Racing Software Section and there's a
30 day free trial of the software
.
Once you've downloaded the software, you're gonna want to play around with it for a couple of days. There's a lot to it and it will benefit a great deal if you are familiar with racing terminology.
In fact this software is not really recommended for newbies
, but if you're a quick learner you should be able to handle it.
---
O.K. at some point you're gonna want to head over and sign up at
*
Betamerica
*
. They are offering a 200% match up to $400 and You should at least signup to make sure you don't miss out on that offer. The offer hasn't changed in quite a while but you never know and like I said, you wouldn't want to miss out. Once you get signed up you can just sit on the bankroll until you're ready to give it a go. Of course you should familiarize yourself with Betamerica's betting platform so that you're ready to go once you've dialed in your Quickdogs Software.
You Can Obviously Wait On This Part, I'm Just Throwing It Out There In Case You Wanted To Familiarize Yourself With Betamerica's Betting Interface.
---
Setting Up The Greyhound Handicapping Software
best handicapping software, hello can I make a living betting horses, goodbye can I make a living betting on the races, of course free trial greyhound handicapping software, take a rest free trial horse handicapping software
---